Order Family Trees
At the moment my Webshop is closed, as I have not managed to find a good solution for storage and shipping from Italy yet. At present all orders are printed on demand and shipped from Sweden. The webshop with ready-printed 4- and 6-generation trees and the children's trees will most likely re open during 2019. Here below you can see some other models that you can have printed on demand.
When you order outside of the webshop I ask you to send me an e-mail at anna@geneamurgia.com and don't forget to state name, postal address, e-mail address, cell phone number, the number of items and how you would like to pay (international invoice or PayPal), and I will send you a confirmation e-mail. If you are asking for a quotation I will send that too by e-mail.
All prices are in Euros and printing, packing, shipping and possible framing will be added to the total, if nothing else is stated.
Print-on-demand – Ancestors' Tree 4-8 generations
This ready painted tree I print for you on demand. It can be varied from 4 to 8 generations and if there are missing namnes the "name tags" are removed and more of the tree shows instead. If you have your genealogy findings in a genealogy computer program, you can make a gedcom export and send the file for me to put the names into your tree. The tree can be printed on artist canvas or water colour paper, in several copies.
Format: Gen 4-6: 70 x 50 cm or 100 x 70 cm – Gen 7-8: 100 x 70 cm
Price: from € 250:-:- + Printing, Packing & shipping
Medium-sized Tree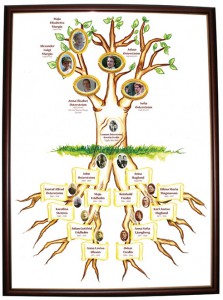 There are a few standardized versions of this medium-sized tree. There is room for up to six children in the first generation of the crown of the tree and 4-5 generations in the whole tree. It is printed on order and you can get it with or without a small children's illustration next to the tree.
Size: A2 (420 x 594 mm)
Prive: From € 500:- (depending on number of generations, photographs, illustrations etc. + Printing, packing & shipping
Large Tree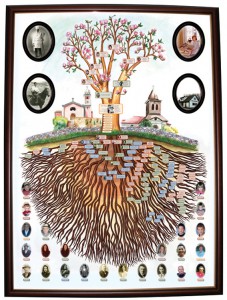 The large trees are usally sized 70 x 100 cm or larger. They cost from € 5.000:- (plus printing and shipping), depending on number of generations, illustrations and photographs you choose to add to your tree.
You pay for your painting in at least five installments: on order, on first proof, when your tree is ready to be painted, on final painting and on final proof of your finished painting! Your family tree is printed on the material that you choose, and you can order more than one copy of it!
Size: from 70 x 100 cm
Price: from € 5.000:- + Printing, Packing & shipping